Here at Pinnacle Roofing Professionals we only use CCA treated cedar shakes that are a high quality cedar shake provided by the Imperial Shake Co. Ltd. Imperial specializes in, among other things, the production and distribution of premium quality Cedar Roofing materials.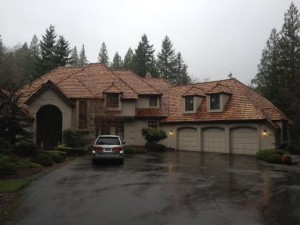 Imperial Shake Co. is located on the northern banks of the Fraser River, east of Vancouver, B.C. Only the finest old growth Cedar logs from the West Coast of B.C. are sourced for Imperial's Product Lines.
Handsplit Cedar Shakes
Handsplit cedar shakes feature a rough split face and sawn back.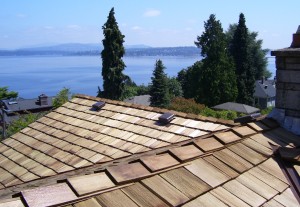 Typical cedar shakes come in two different butt thicknesses; ½" (commonly referred to as Mediums in the roofing industry) and ¾" (commonly referred to as Heavys). Handsplit cedar shakes roofs are popular on traditional, ranch, historical and vacation homes or residential structures designed to blend with the natural and/or rustic surroundings.
Tapersawn Cedar Shakes
In comparison, Tapersawn cedar shakes are between a sawn shingle and a split shake. Both surfaces are sawn and provide a more uniformed appearance compared to the rugged handsplit shakes.